---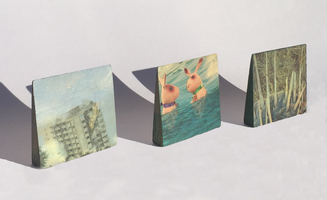 Doorwedge Chronicles
In a hardware store in Paris, I bought a packet of tiny, rectangular wooden wedges. They seemed at the time very Duchamp-esque.I consequently discovered they are designed to slip between doors and floors to hold the doors open. In the packet there were twenty-one wedges, three each of seven different sizes. The sizes range from circa 1.9 x 2.3 centimetres through to the largest which are circa 4.9 x 6.1 centimetres.
I took these little wooden panels out of their packet and stood them on a shelf in a long row with the sharp edges of each wedge pointing upwards. They looked like twenty-one empty chapters from a story waiting to be told.
Using cut and paste, I covered each little wedged panel with narrative-rich images beginning with the "Man with the Red Bowtie", the narrator of the "Doorwedge Chronicles"
I liked the images so much that I scaled them up a little and painted them in oils onto gessoed wood panels. I also drew them with graphite pencil onto Tru-Grain transparent film
http://www.christophercroft.com/drawings
The master printmaker Basil Hall
http://www.basilhalleditions.com.au/
has transferred and etched these drawings onto zinc etching plates to be printed and exhibited later this year in Munich.